HOSPITAL QUALITY ECG RESULTS. ACCESSIBLE AT IN-HOME SETTINGS.
Spaulding Medical's hospital quality, battery-operated, hand-held, 12-lead electrocardiograph device uses Bluetooth technology to provide a heart reading on smart devices in seconds. Unlike larger, more cumbersome 12-lead solutions, Spaulding Medical's handheld device is a great fit for at-home settings and is user-friendly, ensuring that ECGs necessary for clinical trial research can be obtained even while subjects are unable to visit a clinic.
---
EASY TO OPERATE
One button operation makes Spaulding Medical's ECG device simple to learn and use. A brief online training course walks nurses and other medical professionals through the set-up and operation of the device, which can be implemented immediately.
SECURE DATA STORAGE
With Spaulding Medical's FDA-cleared and CE approved hand-held ECG device, tests can be taken in any setting, and results are immediately sent to Spaulding Medical's internal, secure data processor where they are stored. Mere seconds later, results are available in clinicians' email inboxes.
USE IN CLINICAL TRIALS
This ECG device has been in use for clinical research since 2011, though Spaulding Medical has a legacy of developing devices for clinical trials. In the early 2000's, certain drugs were, in some cases, causing sudden cardiac death in part because the technology for proper testing for high-risk side effects was bulky, training intensive, and largely specific to hospitals. Spaulding Medical was founded to develop solutions to make it easier for digital cardiac tests to be collected worldwide – in hospitals, clinics, or other remote settings – for safer drug application. Today, the Spaulding 12-lead ECG product line is in use in over 35 countries.

Spaulding Electrocardiograph Highlights
One button operation
Bluetooth connectivity to any smart device
iOS, Android, Windows app compatible for live streaming ECG
Glasgow Algorithm for immediate interpretation of unconfirmed ECG
LED display provides user feedback
Signal quality indicator
Weighs 3 ounces
3.5 inches in diameter
Portable operation
Spaulding Medical ISO 13485:2016 Certified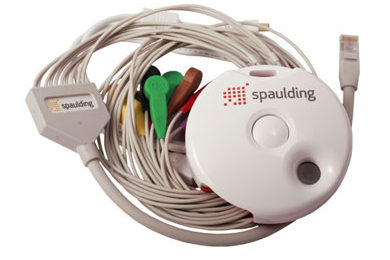 Are you running a clinical trial that requires ECG testing? Do you need a tool nurses can use to take ECGs in subjects' homes? We are here to help.