HOSPITAL QUALITY CARDIAC CARE. AFFORDABLE AND ACCESSIBLE TO ALL.
COVID-19 Treatments Highlight Need for Heart Screenings
COVID-19 treatment and drug trials, including the combination of hydroxychloroquine and azithromycin, are top of mind across the nation and around the world. As this particular "drug cocktail" poses a deadly risk for patients with underlying, often unknown, heart conditions such as Long QT syndrome, it is critical that the medical community comes together to ensure necessary steps are taken to safely administer trial drug combinations.
---
The healthcare community must balance the urgent need for action, with the long-term health and safety of COVID-19 patients.
Spaulding Medical's hospital quality, battery-operated, easy to use, hand-held, 12-lead electrocardiograph device provides a heart reading on smart devices in seconds, telling a healthcare provider if a patient can safely be prescribed a pharmaceutical treatment, like those being considered for COVID-19. Unlike larger, more cumbersome 12-lead solutions, Spaulding Medical's handheld device is a great fit for hospitals, clinics, nursing homes and remote triage medical facilities and is user-friendly, requiring limited background or training.
---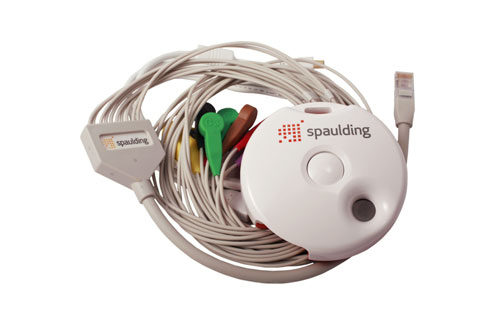 Spaulding Electrocardiograph Highlights
Biometric voiceprint technology
One button operation
LED display provides user feedback
Signal quality indicator
Weighs only 3 ounces
3.5 inches in diameter
Stores up to 5 minutes of 12-lead ECG
Portable operation
Interfaces to standard PC with Internet connection
Spaulding Clinical ISO 13485:2003 Certified
Drug Safety is our Mission:
In 2005-06, certain drugs like Vioxx (arthritis), Fen-Phen (obesity) and Avandia (diabetes) were, in some cases, causing sudden cardiac death in part because the technology for proper testing for high-risk side effects was bulky, training intensive, and largely specific to hospitals. Spaulding Medical was founded to develop solutions to make it easier for digital cardiac tests to be collected worldwide for safer drug application. Today, the Spaulding 12-lead ECG product line is in use in over 35 countries.

Are you a purchaser for a hospital, long-term care facility, home health agency, or remote triage location?
We are here to answer your questions.